The end of summer usually brings a round of prospective violin students eager to make a switch to a new teacher. Sometimes a youngster enters the studio, violin case in hand, without any music or material, expecting me to provide an instant curriculum. A parent usually follows into the room displaying an expression which reads:
Are you, perhaps, the one teacher to be entrusted to transform my wunderkind into the next Joshua
Bell or Hilary Hahn?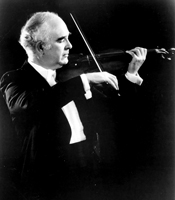 And each potential student that I encounter, with anxious parents in tow, takes me back to my own young years. At the age of fourteen, my mother determined, as she did with anything related to musical education, that it was time to "move on". Qualified applicants for the task of guiding my violin lessons were scrutinized, with a final toss up going to
Jascha Heifetz
,
Joseph Silverstein
, and
Dorothy DeLay
. As it happened, Mr. Heifetz taught at USC in Los Angeles, so studies with him would have required an entire family relocation. Lessons with Ms. DeLay at Juilliard would have meant a continuation of the weekly Greyhound bus commutes from Boston to New York during the night. But Mr. Silverstein, then concertmaster of
Boston Symphony
, was in my backyard, so to speak. His regular appearances on WGBH television with BSO made him, in my eyes, an icon. To this day, I have a splendid memory of listening to an entire recital of his at the Isabella Stewart Gardner Museum in Boston. As he performed the Adagio from Sonata in G Minor of J.S.Bach, I sat mesmerized by the choreography of his bushy eyebrows raising in tandem with the violin bow. So it was with great anticipation that I auditioned for Mr. Silverstein, back in 1973, at his studio in the Berkshires. I presented for him the very same Bach solo sonata movement as he had played at the Gardner Museum. My mother waited outside the studio for Mr. Silverstein's verdict. My father, who drove us everywhere in a pea-green Oldsmobile, and detested driving, went for a sanity walk to smoke a pack of cigarettes.
After the generous hour spent with Mr. Silverstein, a lesson which included valuable insight about bow technique and relaxation, he exchanged a few words with my mother. I believe Mr. Silverstein's message was that to choose to play in a professional orchestra on a par with Boston Symphony in later years, would be an ideal profession for a young woman, especially if that woman had expectations of balancing a family life with a career.
And that was Joseph Silverstein's fatal flaw with Frances Kransberg. Because, you see, my mother's daughter was not to become just an "orchestral" player, but something, in her mind, much more.
photo of Joseph Silverstein